"Dedicated to establishing teams of local Tribal volunteer medical and public health professionals to contribute their skills and expertise throughout the year as well as during times of community need."

Welcome to the new NWTEMC Tribal Medical Reserve Corps webpage. As the NWTEMC develops its TMRC, this webpage will be updated and improved to meet the needs of all the Tribes and medical volunteers in Washington State.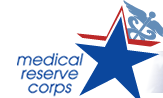 http://www.medicalreservecorps.gov
---
NW Tribal Emergency Mgmt. Council MRC Certificate (.pdf)
United States Surgeon General Autographed Photo (.pdf)
US Surgeon General Regina Benjamin letter to MRC volunteers ( Feb 2011)
---
MRC Pandemic Influenza Planning Guidance (.pdf)
---
Medical Reserve Corps Volunteer Handbook Template (.doc)
This handbook was developed by the Tulalip Tribes MRC and can be modified for any MRC unit. Last revised Fall 2007.
---
Link to Snohomish Co. MRC Monthly Newsletters:
Snohomish County MRC Emmissary [ 09-2007, Vol 1 Issue 4 ]
Snohomish County MRC Emmissary [ 08-2007, Vol 1 Issue 3 ]
Snohomish County MRC Emmissary [ 07-2007, Vol 1 Issue 2 ]
Link to Washington Region IV (SW Wash.) MRC Newsletter:
Region IV MRC newsletter No11-Summer08.pdf
---
How to Start an MRC:
Getting Started
Because each community is different, we expect each community to approach the task of establishing its MRC unit differently. We have prepared general guidelines covering many key issues to assist you with your planning. You can download a copy of Getting Started: A Guide for Local Leaders (PDF 864 KB). We also offer a Technical Assistance Series covering certain topics in greater depth:
Organizing an MRC Unit: Operational Components and the Coordinator's Role
Coordinating With Your Local Response Partners
Developing Volunteer Relationships and Capabilities
Establishing and Maintaining Your MRC Unit's Organization
Registering Your MRC Unit
Registering your MRC unit will allow you to request technical assistance from the MRC Program Office, apply for use of the official MRC logo, and be included in national MRC conferences. Your registered unit also will be officially recognized as part of the White House's USA Freedom Corps initiative and the Department of Homeland Security's Citizen Corps. In return, we will expect you to be an active member of the MRC "community" by participating and sharing information on the MRC Message Board or at MRC meetings. Regular updates of your unit profile, volunteer numbers, and recent activities also are requested.
Registering is Easy. If you are a registered user of the MRC Web site, log in to the system at the Login Page, and select the Register New Unit link on the User Menu. If you are not a registered user, set up an account at User Registration, and continue to Register New MRC Unit. Your application will be reviewed by the MRC Program Office staff in consultation with state and regional coordinators. You will be contacted to clarify, and perhaps expand, on the information you provided. If your registration request is approved, you will be added to our online directory. If you have any questions, do not hesitate to e-mail MRCContact@hhs.gov
Please Note: If your MRC unit is already found on the list of registered MRC units, you do not need to register again.
---
Presentation from 2008 Annual NWTEMC Conference at Great Wolf Lodge, Grand Mound WA
Tribal Medical Reserve Corps, by Shari Mattson-Cooper, NWTEMC MRC Coordinator
---
Presentation from MRC Western Regional Summit held in Las Vegas in July 2007:
---
Presentation from June, 2007 NWTEMC Conference:
Tribal Medical Reserve Corps (MRC), Presented by Roberta Losik-Welch, MRC Coordinator, Tulalip Tribes & NWTEMC: NWTEMC - MRC (.ppt)
---
For more information, please contact:
NWTEMC
Medical Reserve Corps Coordinator
Box 1162
Snohomish WA 98291

Cell: 425-508-3967
E-mail: info@nwtemc.org
The NWTEMC would like to give a special thanks to both Shari Mattson-Cooper and Roberta Losik-Welch, our previous MRC Coordinators, for all their hard work in developing tribal Medical Reserve Corps programs in Washington State.